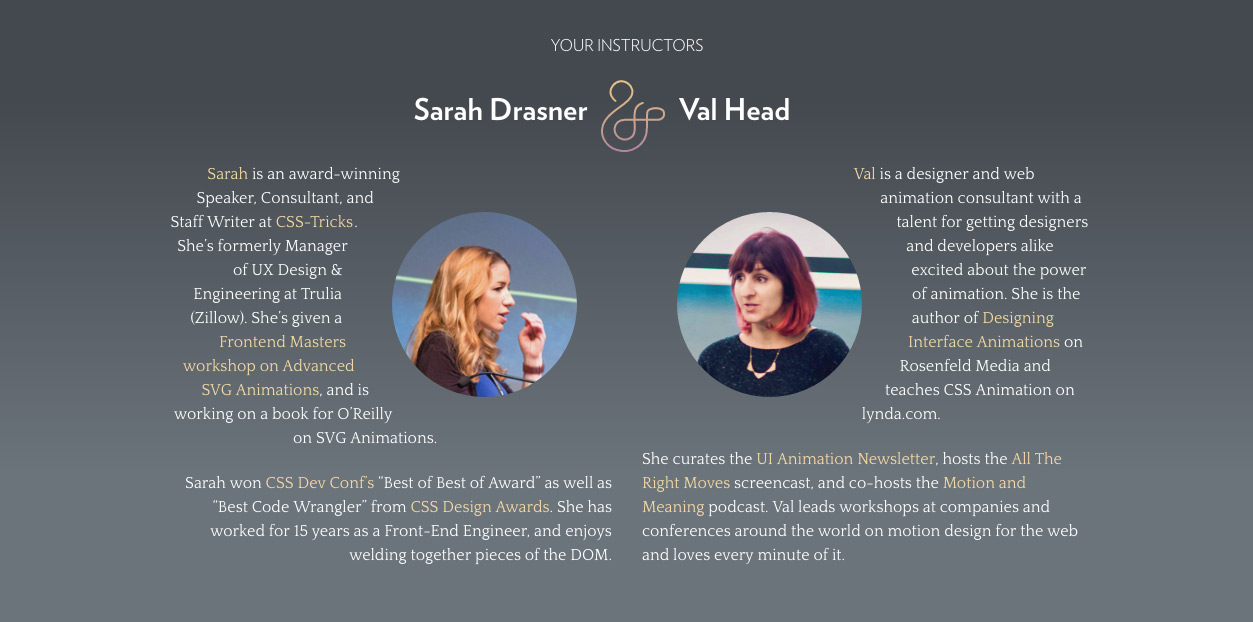 I'm very excited to announce the Web Animation Workshops, a brand new project I'm starting with the super smart Sarah Drasner!
We've put together a knowledge-packed workshop that will teach you literally everything you need to know about web animation called Web Animation 0 to 60: CSS, JavaScript, and SVG Essentials. This is the first in a series of web animation workshops we've got planned and we'll be taking this two-day workshop around to different cities starting this November. You can catch one of the first stops in Austin in November or in NYC in December.
The two of us have taught sold out workshops at conferences around the world over the past year — Sarah's focusing more on SVG and JavaScript, and mine focusing more on CSS and UX. Now we've combined our two areas of expertise to bring you two full days of web animation training. We wanted to create a workshop that will get you up and running with practical web animation knowledge fast. This brand new workshop covers everything from the power of CSS animation, animating with popular JavaScript libraries, animating SVG to designing effective and performant animations. You'll learn how to make the best animation decisions for your work both from a design and technology perspective. You won't find this much web animation knowledge in one place anywhere else!
To make sure you get as much out of these workshops as possible we're keeping the the class sizes small. Each workshop is limited to 40 participants and will include hands-on exercises and plenty of time for discussion. This small class size also means that tickets are going to go fast. Get yourself a ticket today and join us for a two day of web animation event.
Also, if this sounds like something you'd like to get your whole team in on, we are booking a limited number of customized in-house workshops for 2017. Get in touch with us today to book a custom workshop for your team.